Welcome to your Weekend Events Roundup — a curated list of different activities and events happening around Denver (and a couple in the mountains; don't @ me) the weekend of Jan. 10, 2020. Check out Denverite or The Denver Post for an eclectic mix of events every week.
CO WX: Denver Forecast
---
NEW TO DENVER: A20 + SOCIAL HOUR @ ALCHEMY 365 LOHI
WHERE: Alchemy 365 LoHi (2432 W 32nd Ave)
WHEN: Thurs. Jan. 9 @ 6:30-8 PM
COST: Free to register
WHY YOU SHOULD GO: LoHi fitness studio Alchemy 365 hopped on our radar when it joined the Cornerstone Card. Offering residents discounted unlimited classes, free clinics and special program rates, Alchemy 365 is about to open a new location by the end of January 2020. Join our partners at Alchemy 365 LoHi for an A20 — the "bread and butter" of Alchemy workouts — which fuses yoga, high-intensity training and strength.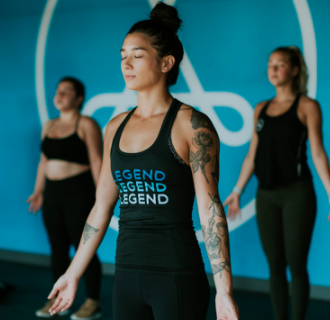 ---
DENVER ZOO FREE DAY
WHERE: Denver Zoo (2300 Steele St.)
WHEN: Fri. Jan. 10 @ 10 AM-4 PM / this runs seven days a year and includes upcoming Sat. Jan. 18 and Sun. Feb. 2
COST: Fo' Free
WHY YOU SHOULD GO: I'm going to be succinct here: free day at the zoo.
---
114TH NATIONAL WESTERN STOCK SHOW
WHERE: 4655 Humboldt St.
WHEN: Daily Jan. 11-Jan. 26
COST: General admission is date specific, but typically between $10-$20; Prices vary depending on event
WHY YOU SHOULD GO: Horse shows, livestock shows and rodeos — welcome to Colorado's largest trade show. An epic event that must not be missed, the National Western Stock Show is a nationally recognized western heritage and entertainment event. Drawing more than 650,000 visitors each year, this is one of world's the largest horse shows and rodeos.
---
WINTER PARK EXPRESS
WHERE: Union Station (1701 Wynkoop) to Winter Park Resort
WHEN: Friday, Saturday, Sunday @ 7 AM – 4:30 PM, through March 29, 2020
COST: One way tickets start at $29
WHY YOU SHOULD GO: It's a very inexpensive, flexible, cool, scenic, awe-inspiring way to trek up to the massive peaks along the Continental Divide. Winter Park also has one of the best snowpacks in the state for ski resorts. Take advantage of the different types of terrain — and weekend events outside riding — Winter Park has to offer. This is a great family resort with more than 3,000 skiable acres of piping, fresh pow. VENTURE OUT. #ad — just kidding, but it should be…
---
FIRST FRIDAY JAZZ
WHERE: Five Points neighborhood; different participating venues along Welton Street
WHEN: Started Fri. Jan. 3 — Runs every first Friday of the year
COST: Free concert series
WHY YOU SHOULD GO: Featuring traditional and contemporary jazz alike, a talented lineup of local jazz musicians, bands and R&B artists will be scattered across the Five Points neighborhood the first Friday of every month. A new era of First Friday, the jazz concert series aims to bring the community together while fostering the vibrant jazz community of Five Points.
READ MORE ABOUT FIVE POINTS JAZZ
---
INTERNATIONAL SPORTSMEN'S EXPO – DENVER
WHERE: Colorado Convention Center (700 14th St.)
WHEN: Thurs. Jan. 9 – Sun. Jan. 12
COST: 15 & under: free / Adult: $16
WHY YOU SHOULD GO: This massive annual expo brings together outdoor enthusiasts from all walks of life. With more than 500 companies represented, the expo packs expert presenters, gear demos, films, instruction tips, SWAG (stuff we all get) and so much more under one roof. Whether you're looking to fine-tune your fly cast or you want to know which type of gear is best for you backcountry expedition, this is your one-stop-shop for upping your game in Colorado's world-class outdoors.
---
COLORADO AVALANCHE VS. PITTSBURGH PENGUINS
WHERE: Pepsi Center (1000 Chopper Cir)
WHEN: Fri. Jan. 10 @ 7 PM
COST: Tickets vary; check around
WHY YOU SHOULD GO: You could have a full weekend of Denver sports starting with the Avs on Friday night. The Avs are awesome, and you just don't need to be a hockey fan —– Also: NHL All-Star voting is through Jan. 10 — support the homies.
---
DENVER NUGGETS VS. CLEVELAND CAVALIERS, LA CLIPPERS
WHERE: Pepsi Center (1000 Chopper Cir)
WHEN: vs. Cavs on Sat. Jan. 11 @ 7 PM / vs. Clips on Sun. Jan. 12 @ 6 PM
COST: Tickets vary, but the Nuggitos are Championship contenders
WHY YOU SHOULD GO:  Nugs are sittin' pretty four games behind the No. 1 Lakers in the Western Conference. Make sure to vote for our guys on the All Star ballot. I'd love to talk more about this electric, young team, but may I direct you to Nuggets writer Nick Kosmider's author page? Also a plug to support local journalism.
MORE OPTIONS FOR PRO SPORTS TICKETS
COULD PROBS LOOK FOR AVS TIX HERE TOO
---
IS THERE BRUNCH ON MARS? A DAVID BOWIE BRUNCH
WHERE: Ophelia's Electric Soapbox (1215 20th St.)
WHEN: Sat. Jan. 11 @ 10:30 AM – 2:30 PM / Sun. Jan. 12 @ 10:30 AM – 2:30 PM
COST: Free admission with brunch and drinks — call to reserve…. This consistently sells out.
WHY YOU SHOULD GO: Pay homage to one of the GOATs, David F'ing Bowie, with DJ's Boyhollow (Lipgloss) and guests. Pour one out while fearlessly belting all the notes to "Life on Mars" in between sips of mimosa. You should probably call to reserve your spot for one of the most in-demand weekend events.
---
POWDER HUNTIN'
WHERE: All 28 of Colorado's ski resorts
WHEN: All weekend 8 AM – 4 PM
COST: Depends on where you go and if you have an Epic or Ikon Pass. May I recommend skiing independent for a day? Local places stash some of the state's best powder
WHY YOU SHOULD GO: If you know, you know.
WHY YOU SHOULD NOT GO: You don't ski or snowboard, and definitely read this.
RELATED CONTENT: The essential guide to Colorado's best ski towns
ASKING FOR A FRIEND: Does Colorado or Utah Have Better Snow?
---
Send us suggestions or ideas for any events and activities we should include on the Weekend Events Roundup  / Check out our Cornerstone Card partners for a list of exclusive specials, discounts and promotions around Denver for Cornerstone residents.